before this we have used request.getParameter(String) which is used to get a single request parameter value.
Now if we want to get all parameter names then we have to use request.getParameterNames()
it returns Enumeration of String objects of all parameter names.
After getting all parameter names we can get its value using request.getParameter(String) .
request.getParameterNames() is useful we have large number of parameters are used in request.
Following example is used to explain the above concepts.
Project Explorer: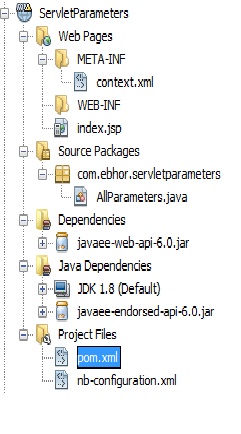 index.jsp
<

%

@

page

contentType

=

"text/html"

pageEncoding

=

"UTF-8"

%

>
Getting all parameters in servlet
AllSerlvet.java
1

2

3

4

5

6

7

8

9

10

11

12

13

14

15

16

17

18

19

20

21

22

23

24

25

26

27

28

29

30

31

32

33

34

35

36

37

38

39

40

41

42

43

44

45

46

47

48

49

50

51

52

53

package

com

.

ebhor

.

servletparameters

;

import

java

.

io

.

IOException

;

import

java

.

io

.

PrintWriter

;

import

java

.

util

.

Enumeration

;

import

javax

.

servlet

.

ServletException

;

import

javax

.

servlet

.

annotation

.

WebServlet

;

import

javax

.

servlet

.

http

.

HttpServlet

;

import

javax

.

servlet

.

http

.

HttpServletRequest

;

import

javax

.

servlet

.

http

.

HttpServletResponse

;

@

WebServlet

(

name

=

"AllParameters"

,

urlPatterns

=

{

"/allparameters"

}

)

public

class

AllParameters

extends

HttpServlet

{

protected

void

processRequest

(

HttpServletRequest

request

,

HttpServletResponse

response

)

throws

ServletException

,

IOException

{

response

.

setContentType

(

"text/html;charset=UTF-8"

)

;

PrintWriter

out

=

response

.

getWriter

(

)

;

Enumeration

parameterNames

=

request

.

getParameterNames

(

)

;

while

(

parameterNames

.

hasMoreElements

(

)

)

{

String

parameterName

=

parameterNames

.

nextElement

(

)

;

String

value

=

request

.

getParameter

(

parameterName

)

;

System

.

out

.

println

(

"parameter name is "

+

parameterName

)

;

out

.

println

(

"Parameter name is <b>"

+

parameterName

+

"</b> value is <b> "

+

value

+

"</b>

protected

void

doGet

(

HttpServletRequest

request

,

HttpServletResponse

response

)

throws

ServletException

,

IOException

{

processRequest

(

request

,

response

)

;

protected

void

doPost

(

HttpServletRequest

request

,

HttpServletResponse

response

)

throws

ServletException

,

IOException

{

processRequest

(

request

,

response

)

;
pom.xml
1

2

3

4

5

6

7

8

9

10

11

12

13

14

15

16

17

18

19

20

21

22

23

24

25

26

27

28

29

30

31

32

33

34

35

36

37

38

39

40

41

42

43

44

45

46

47

48

49

50

51

52

53

54

55

56

57

58

59

60

61

62

63

64

$

{

project

.

build

.

directory

}

/

endorsed
Result: