The Internet of Things can be used in several different aspects of life, in both the public and private sectors.
Thanks to the Internet of Things, individuals can track things like appliance maintenance schedules, their house's security systems, or lost pets.
Consumers or customers can use the Internet of Things for helping them receive coupons for a store, monitor their exercise progress and overall health, and make restaurant reservations, only by virtue of walking by the business that we are talking about.
Businesses and companies can use the Internet of Things for monitoring supply chains, tracking consumers' or customers' spending habits as well collecting their feedback, monitoring and maintaining inventory levels, and engaging in predictive maintenance of their devices, systems, and machines.
The Internet of Things also proves helpful in ITIL, which is a set of Information Technology service management, an important detail, since InformationTechnology departments are called on to do more and more in a globe that is getting increasingly digital, with more and more reliance on wireless networks.
Blockchain, which is being increasingly used as a more secure and efficient method of data processing and transaction, is a natural beneficiary of Internet of Things technology.
All us should expect to see the Internet of Things and Blockchain coming together more often in the future.
But how do different companies and industries apply the IoT or the Internet of Things for making things more efficient?
The ubiquity of the IoT (Internet of Things) is a fact of life thanks to its adoption by a broad range of companies and industries.
Internet of Thing's versatility makes it an attractive option for so many government branches, organizations, and businesses, that it does not make sense to ignore it.
Here's a sample of several applications and industries, and how the Internet of Things can be best applied.
1 Internet of Things Applications in Wearables
Wearable technology is probably is one of the earliest applications and industries to have deployed the Internet of Things at its service and is a hallmark of Internet of Things applications.
We happen to see smart watches, heart rate monitors, and Fit Bits everywhere these days.
Guardian glucose monitoring device is one of the lesser-known wearables.
This device is created and developed for aiding individuals who are suffering from diabetes.
It relays the information via Radio Frequency to a monitoring device, and it helps detect glucose levels in the body of a person, by using a tiny electrode called a glucose sensor placed under the skin.
Fitness bands and virtual glasses for monitoring for example heart beats or calorie expenditure, or GPS tracking belts, are just a few examples/ instances of wearable devices which we have been using for some time now.
Big tech giants, brands and companies such as Samsung, Apple, Google, and others have introduced and developed the Internet of Things and its applications thereof into our daily lives.
These are energy-efficient and small systems, which are equipped with sensors. With software, the necessary hardware for measurements and readings can be used for collecting and organizing information and data about customers and users.
2 Internet of Things Applications in Smart Home Applications
Smart Homes are probably the 1st thing that we think of when we talk about IoT Applications.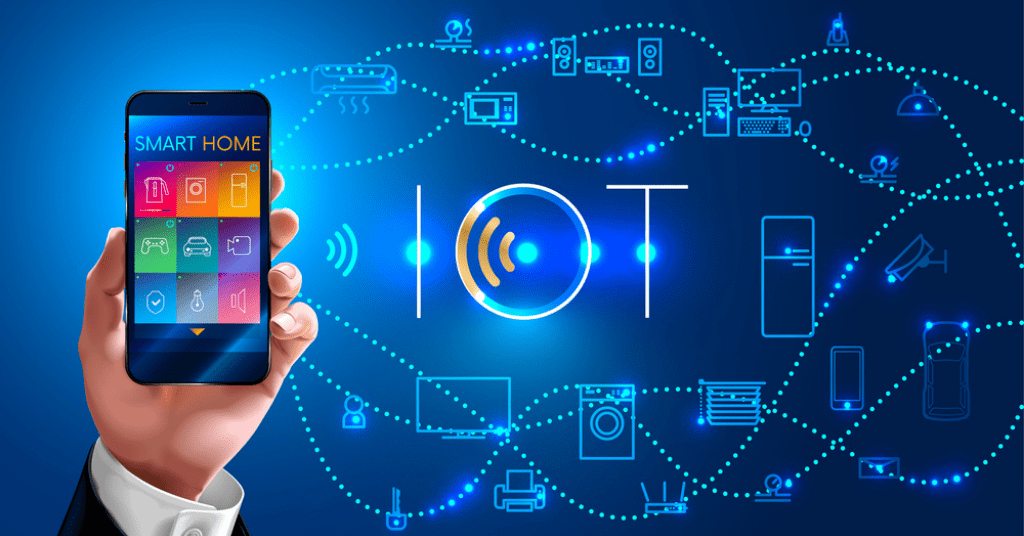 One of the best examples I can think of here is Jarvis, i.e. the AI house automation system employed by Mark Zuckerberg.
Know More : Mark Zuckerberg's AI – Personal Assistant – Jarvis – Home Automation
Functions are actuated by using a string of musical notes in the Home Automation System by Allen Pan.
3 Internet of Things Applications in Healthcare
Internet of Things applications are capable ofturning reactive medical-based systems into proactive wellness-based systems.
The resources used by the current medical research, lack critical real-world information.
It mostly uses volunteers, controlled environments, and leftover data for medical examination.
Internet of Things opens ways to a sea of valuable data through testing, real-time field data, and analysis.
The Internet of Things also improves the current devices in availability, precision, and power.
Internet of Things focuses on creating and developing systems rather than just equipment.
Know More: The Future of Healthcare by IoT AI and Virtual Reality
The use of sensors or wearables connected to patients, allows doctors to monitor their patient's condition in real-time and outside the hospital.
The Internet of Things helps to improve the care for patients and the prevention of lethal events in high-risk patients through continuously monitoring certain metrics and automatic alerts on their vital signs.
The other use is the integration of Internet of Things technology into hospital beds.
It provides a way to smart beds, that are equipped with special sensors for observing important and vital signs, body temperature, oximeter and blood pressure.
4 Internet of Things Applications in Smart Cities
I have assumed here that most of you must have heard about the term Smart City.
One of the many aspects that constitute a smart city is the hypothesis of the optimized traffic system.
Know More: What is a smart city ?
The thing about theconcept of smart cities is that it is very specific to a city.
The problems faced in Delhi are very different than those in Mumbai. The problems in New York are different from Shanghai.
Even global issues, such as increasing urban density, deteriorating quality of air, and finite clean drinking water, occur in different intensities across cities and they affect each city differently.
The engineers and the Government can use Internet of Things for analyzing the often-complex factors of town planning specific to each city.
The use of Internet of Things applications can aid in areas like emergencies, waste control, and water management.
Now, let's take an actual example of Palo Alto- a Smart City.
Palo Alto in San Francisco is the 1stcity of its type, which took a whole new approach towards traffic.
They realized, the main reason for traffic congestion in the city – most cars on the streets go round and around the same block, in search of parking spots.
Thus,at all the parking spots around the city, sensors were installed.
Any no of applications can consume that information and data and these sensors pass the occupancy status of each spot to the cloud.
It can also help guide the drivers through the smallest and the shortest route to an open spot.
This solution/ answer here involves the use and application of sensor arrays feeding back to a point that, aggregates the information and data and uses it for several purposes.
5 Applications of IoT in Agriculture
Statistics estimate the ever-growing world/ globe population of people will reach nearly ten billion by the year two thousand and fifty.
To feed such a big population one needs to marry technology to agriculture and obtain the best results.
There are so many possibilities in this field and one of them is the Smart Greenhouse.
A greenhouse farming technique allows or enhances the yield of crops by controlling several environmental parameters.
However, manual handling results in labor cost, energy loss, and production, making the process less effective.
A greenhouse with embedded systems and devices not only makes it easier to be monitored but also, allows us in controlling the climate inside it.
Sensors measure various parameters according to the plant requirement and then send them to the cloud.
It, then, applies a control action and processes the data and information.
Smart farms are a fact and the quality of soil is crucial to produce good crops.
The IoT(Internet of Things) offers farmers the possibility to access detailed valuable data and information, knowledge of their soil condition.
Through the implementation of Internet of Things sensors, a significant and big amount of data and information can be obtained on the states and stages of the soil.
Information such as temperature, the presence of certain nutrients, level of acidity, soil moisture, level of acidity, and many other chemical characteristics, make water use more efficient, helps farmers control irrigation discover the presence of diseases in plants and soil, and even specify the best times to start sowing.
6 Applications of IoT in Industrial Automation
This is one of the fields where both quality of items and products, as well as the faster developments, are the critical and main factors for a higher Return on Investment.
With Internet of Things Applications, a person could even re-engineer items/ products and their packaging to deliver better performance in both customer and cost experience.
Internet of Things here can prove to be game changing with solutions and answers for all the following domains in its arsenal.
Logistics and Supply Chain Optimization
Packaging Optimization
Quality control
Security and safety
Inventory management
Product flow monitoring
Factory digitalization
7 Applications of IoT in Traffic Monitoring
The Internet of things can be very beneficial and useful in the concept of smart cities, contributing to the management of vehicular traffic in large cities.
When we use our mobile phones and smartphones as sensors, that share and collect information and data from our vehicles through applications such as Google Maps or Waze.
We are using the Internet of Things for informing us and at the same time contributing to traffic monitoring, showing and letting us know the conditions of the many different routes, and improving and feeding the data or information on the several routes to the same distance, destination, estimated time of arrival.
8 Applications of IoT in fleet management
The installation of sensors in fleet vehicles helps to establish an effective interconnectivity between the managers and their vehicles as well as between the drivers and their vehicle.
Just by accessing the software in charge of organizing, processing, and collecting the information and data, both manager/ owner and driver can know all types of details about the needs, operation, and status of the vehicle.
Even, there have been receive alarms in real-time of incidents of maintenance without having been detected by the driver.
The application of the Internet of Things to fleet management assists withfuel savings, telemetry control, performance analysis, and geolocation (and with it the identification of the most efficient routes and the monitoring of routes), and the reduction of polluting emissions to the environment and can even provide valuable information to improve the driving of vehicles.
9 Applications of IoT in hospitality
The application of the Internet of Things to the hotel industry or the hospitality industry brings with it interesting and exciting improvements in the quality of the service.
It is possible to automate various interactions, with the implementation of electronic keys, which are sent directly to the mobile devices of each guest.
Thus, the sending of offers or the data or information on activities of interest, the realization of orders to the room or room service , the location of the guests, the automatic charge of accounts to the room or the request of personal hygiene supplies, are activities that can be easily and quickly managed through integrated apps using the Internet of Things technology.
The check-out process is automated with the use of electronic keys, disabling the operation of doors, offering data and information about the rooms immediately available, and even assigning housekeeping tasks to personnel of maintenance.
10 Applications of IoT in Smart Grid and Energy Saving
The installation of sensors in different strategic points that go from the production plants to the different distribution points, and the progressive use of intelligent energy meters, or meters equipped with sensors, allows better control and monitoring of the electrical network.
By establishing a bidirectional communication between the end user and the service provider company, data and information of enormous value can be obtained for the repair, decision making, and detection of faults thereof.
It also allows offering valuable data and information to the end user about the best methods or ways to adjust or reduce their energy expenditure and their consumption patterns.
11 Applications of IoT in Water Supply
A sensor, either adjusted or incorporated externally to water meters,accompanied by the necessary software and connected to the Internet , helps to analyze, process, and collect, information or data, that allows understanding the behavior of consumer, report results, detecting faults in the supply service and offer courses of action to the company or brand which provides the service.
Likewise, it offers final customers or consumers to receive automatic alerts in case of detecting consumption that is out of range to their average consumption record, which could indicate the presence of a leak and the possibility of tracking their own consumption data and information, through a web page and in real time, even
12 Applications of IoT in Maintenance Management
Maintenance Management is precisely one of the areas where the application of Internet of Things technology is the most extensive.
Through the combination of software and sensors specialized in EAM/ CMMS maintenance management, a multifunctional tool is obtained whose use can be applied to a multiplicity of disciplines and practices, with the purpose of extending the beneficial and useful life of physical assets, while guaranteeing asset availability and reliability.
The application is almost unlimited when the characteristics of the software that is in charge to arrange and process the information and data collected by the sensors are designed for specifically addressing the maintenance management needs of physical assets.
The real-time monitoring of physical assets allows determining when a measurement is out of range and it is necessary to perform Artificial Intelligence (AI) , or even condition-based maintenance (CBM)algorithms such as Deep Learning or Machine Learning for predicting the failure before it happens.
13 Applications of IoT in Industrial Internet
It is also one of the special Internet of Things applications.
It's popularity currently does not reach the masses like wearables or smart home do, but many market researches such as Cisco or Gartner view the industrial internet as the Internet of Things concept with the highest overall potential.
However, the industrial internet has plenty going for it. The industrial internet gets the highest or the biggest push of people on social media platform Twitter (~1,700 tweets per month) as compared to other non-consumer-oriented Internet of Things concepts.
14 Applications of IoT in Connected Cars
The connected car is coming up slowly and owing to the fact that the development cycles in the automotive industry typically take two to four years, all of us haven't seen much abuzz around this application yet, but it seems that all of us are getting there.
Many big or large auto makers as well as some brave startups are currently working on connected car solutions.
And if the Fords or the BMWs of this car world do not present the next gen internet connected car soon, other well-known giants will: Apple, Microsoft, and Google have all announced connected car platforms.
15 Applications of IoT in Connected Health (Digital health/Telehealth/Telemedicine)
The sleeping giant of the Internet of Things applications is the connected health.
The concept of smart medical devices and systems and a connected health care system bears huge and enormous potential (view market segments), not just for companies or brands also for the well-being of individuals in general.
Yet, the large-scale startup successes and prominent use cases of connected health are still to be seen as this application has not reached the masses yet.
Might this hear i.e. 2021 will bring the breakthrough?
16 Internet of Things Applications in Smart Retail
The popularity ranking shows that it is still a niche segment, but proximity-based advertising as a subset of smart retail is starting to take off.
1 LinkedIn post per month is nothing as compared to four hundred and thirty for smart home.
17 Internet of Things Applications in Smart Supply Chain
Supply chains have been getting smarter for few years already and solutions for tracking goods, items, and products while they are on the road, or getting suppliers to exchange inventory data and information have been on the market for many years now.
Therefore, while it is perfectly logical that this application or topic will get a new push with the Internet of Things, however it seems that so far its popularity remains limited.
18 Internet of Things Applications in Poultry
Livestock monitoring is about cost saving and animal husbandry. Using Internet of Things applications for gathering information and data about the well being and healthof the cattle, ranchers knowing early about the sick animals can pull out and help inpreventing huge and large number of sick cattle.
With the help of the ranchers and the collected data and information, can increase the poultry production
19 Internet of Things Applications in Insurance
Even the insurance industry can be advantageous or prove beneficial from the Internet of Things revolution.
Insurance brands, industries, and companies can offer their policyholders discounts for Internet of Things wearables such as Fitbit.
By employing fitness tracking, the insurer can be encouraged to adopt healthier habits and offer customized policies, which in the long run, will benefit everyone, customer ,and insurer, alike.
20 Internet of Things Applications in Manufacturing
The world of industrial automation and manufacturing is another big winner in the Internet of Things sweepstakes.
From its start on the factory floor to its placement in the destination store, GPS and RFID technologies can help a manufacturer for tracking an item or a product, the whole supply chain from starting to the end.
These sensors can help ingathering data and information on environmental conditions, product conditions and travel time, that the item and the product was subjected to.
Reducing waste and lost time, sensors attached to industry or factory equipment can help in identifying bottlenecks in the production line.
Other sensors mounted on those same machines can also help in training the performance of the machine, and help predict when the unit will require maintenance, thereby preventing very costly breakdowns.
21 Internet of Things Applications in Transportation
By this time, many individuals or people have heard about the development and progress being made with self-driving cars.
But that's just only a single bit of the huge and vast potential in the field of transportation.
The GPS, which, if you think of it, is another great example of Internet of Things, is being utilized for helping transportation industries and companies plot more efficient and faster routes for trucks hauling freight, thereby it speeds up delivery times.
There's already very important and significant progress made in navigation, once again alluding to a car or phone's GPS.
But city planners can also use that information and data to help in determining road construction and maintenance, parking space demand, and traffic patterns.
There's even a possibility that applications can be made that can help inpreventing a car from starting if the driver of the car is inebriated!
22 Internet of Things Applications in Utilities/ Energy
Internet of Things sensors can be employed for monitoring environmental situations and conditions such as lighting, temperature, and humidity.
The data and information provided by Internet of Things sensors can help in aiding in the development and creation of the algorithms which help in regulating energy usage and make the appropriate adjustments, eliminating the human equation (and let's face it, who of us has not forgotten to turn down the thermostat or switch off lights in a room?).
With Internet of Things – driven environmental control, private and businesses residences can experience huge and significant energy savings, which in the long run will be benefiting everyone, including the environment!
For helping run municipal power grids more efficiently, analyzing factors such as usage on a larger scale, information and data that is gathered by the Internet of Things can be used.
Also, the sensors can help in pinpointing outages faster, thus decreasing blackout times and increasing the response time of repair crews.
23 Applications of IoT in the Internet of Nano – Things
The Internet of Nano – Things is made up of linked Nano devices through current telecommunications and network systems.
The Internet of Nano – Things added a fresh aspect to the Internet of Things incorporating Nano sensors into systems and devices for allowing them to interact globally between devices and systems around the world through the Nano network and the Internet.
The Internet of Nano – Things defines how the Internet will grow as Nano sensors connect to physical stuff like consumer devices and physical resources for collecting, processing and sharing data and information with end customers.
The Internet of Nano – Things has several important applications such as smart cities, manufacturing, industrial control systems, aerospace, health care, logistics, military ,and smart agriculture.
24 Applications of IoT in Pharmaceutical
A medication temperature monitoring app that uses sensors to ensure medical supplies still meet quality standards upon delivery and for detecting if the temperature of the medication has gone outside of the acceptable range.
The handling temperatures are vaccines, and medications, for example, are crucial to their effectiveness. For reminding patients when it is time for taking their medication and for monitoring that medications are kept within the proper handling temperature range, Internet of Things based smart apps can be used.
25 Applications of IoT in Business services
For enabling support personnel byreceiving alerts about service issues and take immediate action, facility services brand or company uses their multi-device Internet of Things software.
By aggregating information and data from hundreds and thousands of sensors in systems such as mouse traps, paper towel dispensers, soap dispensers, and coffee machines, rather than doing manual checks, the application has significantly improved service levels and cut costs.
26 Applications of IoT in Media & Entertainment
For understanding the foot traffic of individuals at events, a production firm and an entertainment design uses sensors in turnstiles of venues.
For helping sponsors understand the best places to advertise and to ensure the attendee count stays within the fire code compliance of the venue, their Internet of Things app sees the attendee traffic patterns in real-time.
27 Applications of IoT in Mimo Monitors
This new type of infant monitor gives parents insight into their baby's sleep by using sensor technology.
It provides them real-time data and information about their baby's breathing patterns, early warnings, activity level, body position, and body temperature– all on their smartphones.
28 Applications of IoT in Intelligent Engines
Microsoft is collaborating with Rolls-Royce in transforming the aerospace industry.
The TotalCare Services of Rolls-Royce is incorporating advanced analytics and Internet of Things in aggregating information and data from disparate sources, integrating big and large quantities of airline operational data and applying smart data analysis capabilities and predictive tools for helping airlines reduce fuel usage and making fly routes more efficiently.
This data will also be beneficial to ensure that the right equipment and teamsare in place to optimally service the engines.
29 Applications of IoT in UPS
UPS, one of the globe's biggest shipping brands, has leveraged the power of Internet of Things and big data analytics for improving its efficiency, saving money and also reducing the impact on the environment.
Sensors are used on delivery vehicles for monitoring their stops, mileage, speed, and the overall engine health.
Using the information of more than two hundred data points for each vehicle, UPS takes measures for reducing fuel consumption and idling time.
30 Applications of IoT in Ice Creams
Here's a story that I want to tell you- There was a Chennai and Bangalore based ice cream chain whose 25 per cent of ice creams used to melt due to improper storage, due to which it's inventory started degrading massively.
Nimble Wireless, a company that deals in Internet of Things hardware solutions, came to their rescue.
They allowed the store managers to remotely monitor the storage of their ice creams by installing smart temp sensors.
This helped as in the store managers were notified as soon as the ice cream started to melt, and they were able to address the problem almost instantly.
31 Applications of IoT in Harley Davidson
All of us are aware that the customer's demands changed massively during the financial crisis of 2008.
Due to this reason, assembly line system of production of Harley Davidson proved as a liability during these challenging times.
Harley Davidson transitioned to a digital chain supply to address this problem i.e. each step of the production system was tracked down in a real time management process, and on displays around the factory.
Adapting to the digital supply chain, Harley Davidson increased their net margin by 19 per cent and cost were reduced by seven per cent.
32 Applications of IoT in Rolls Royce
Many of you might not know but Rolls Royce has invested a big portion of their fortune in airline engine manufacturing as well, apart from their world famous cars.
Rolls Royce also provide consumer service support to the brands, industries, and airlines who purchase these engines.
The problem occurred here as the volume of data became so enormous that it became challenging and difficult for them to manage and optimize the maintenance process.
Rolls Royce then employed a predictive technology and an Internet of Things Suite for analyzing this voluminous data and get the most out of it, specially for their part replacement and efficiency of fuel.
33 Applications of IoT in Maersk
This company is responsible for aroundeighteen per cent of the global container trade.
This brand faces a huge level of accountability when we talk about the transportation of the goods.
They deployed a remote container management system which helped in monitoring the temperatures of container, specifically for the produce that is fresh, and it is intervened for preventing the wastage.
Blockchain tech has also helped for tracking more accurate container capabilities, that leads to vast and massive cost savings each year.
34 Applications of IoT in DHL
You might know DHL for its global logistics. But, for optimizing its systems and processes currently, it has also begun implementing the Internet of Things tech.
Smart warehouses of DHL are equipped with prominent displays which can help in boosting the efficiency, reducing the costs of production, and spotting the potential dangers and hazards.
This is done as the data elements are pulled together from around the warehouse and these can be easily and quickly unified in an engaging and a single interface.
35 Applications of IoT in Johnnie Walker
Okay, you might be wondering that what is the use of the Internet of Things in a whiskey bottle? But, you will be surprised to know that the OpenSense tech has served actually well for the company and the customer.
They can be used to check the status of each whiskey bottle in the supply chain, along with the unique identifiers.
They can also be used to check if the bottles have been tampered in any method or way, or if the items are counterfeit.
36 Applications of IoT in Health360
Here's a question for you- Name 1 industry that is in constant need of improvement and optimization? Healthcare is the answer.
ImagineCare Experience has been integrated and implemented with its engaging application.
Due to its implementation, Healthcare heavily increased its engagement, specially remote care for the patients who are suffering from the chronic diseases.
The staff efficiency is increased and costs are reduced heavily, all this is done by correctly doing away and identifying with unnecessary trips to the ER.
37 Applications of IoT in Union Pacific
Union Pacific operates at a huge scale and transportation services come with many safety concerns.
For guarding against derailments of the vehicles, this company has successfully integrated a software programme.
It enables to collect information through visual and acoustic sensors on the downside of the carriages of the trains.
Potential hazards and dangers can also be analyzed foremost, thereby saving millions and billions of dollars of the company due to the damages and delays. (Too much alliteration, I tell you!)
38 Applications of IoT in John Deere
Agriculture is one industry that will always generate huge benefits if you help enhance its outputs, specially if we talk about the yields of crops.
Do you know what actually John Deere did? It helped create a system by stitching technologies for optimizing farming systems.
This was done with the help of the Internet of Things sensor, a replacement of steering wheel, cloud applications, and wireless communications.
This can be done by increasing precision when farmers are tilling arable land.
39 Applications of IoT in Whirlpool
Feedbacks are the backbone of a company thatdeals in electronics, so as to know that how their products are performing in the marketplace and which are the areas where the products require much improvements.
To make this process easy, Whirlpool is making use of the Internet of Things sensors on their refrigerators and washing machines.
These sensors tell the company by collecting the data that how these devices are being used and how well are these responding to their usage.
Therefore, the company can rope in suggestions for making suitable changes in the designs of the future machines for catering specifically to the consumer's needs.
40 Applications of IoT in Ricoh
Companies and industries around the world lose their valuable resources such as time and money over one redundant problem- recurring meetings.
For combating this worldwide problem, Ricoh has come up with a superb and interactive solution.
It has created and developed a whiteboard with cognitive capability, that can be used for capturing any voice interactions + any thing that has been written on it.
For later references, such transcripts can be shared with the concerned employees.
The main aim behind all this is to largely reduce loss of data and cost and smoothly streamlining the processes of meetings.
41 Applications of IoT in ThyssenKrupp
All of us are living in an ever increasing physical world and with expanding cities, there has been a splurge in the demands of the high tech elevators.
With the help of central cloud databases, this company uses the Internet of Things sensors in each of its elevators for tracking down KPIs.
This help the on field employees of this company for locating and knowing about a problem well beforehand and they can easily rectify it well before time.
42 Applications of IoT in Crowne Plaza
Big 5 star properties such as Crowne Plaza are the 1st choice for big parties, private events, and business conferences.
All this pose a big problem of the parking of the vehicles. Hotel Crowne Plaza solved this problem by making use of the ParkNET and Internet of Things technology, and now it gives a better idea of the availability of parking in real time situations.
This happens as follows- Imagine you are a guest at Crowne Plaza. When you reach the property, the staff can directly guide you to the empty parking spot, thus making it a seamless experience and saving everyone's time, including yours and the hotel's staff.
43 Applications of IoT in Restaurants
Currently, there's hardly any industry that has remained untouched of the Internet of Things technology.
It has infiltrated this industry, and has enhanced processes, thus increasing the cost efficiency and providing a better customer or consumer experience.
Many restaurants nowadays use more integrated devices, that are equipped with digital menus and smarter POS systems.
Also, now restaurants also have sensors that are able to collect data on the basis of footfalls, consumer behavior in terms of food they order, heat maps of the restaurant, etc.
All of these can be used for enhancing their business practices.
44 Applications of IoT in Kohler
If building smart homes is an art, Kohler is the Picasso of it.
They have made the normal routine processes more efficient by integrating the modern technology into their smart home items. For instance, let's talk about their smart bathrooms.
Their smart bathroom systems can check the weather outside early in the morning and likewise set the correct temperature for your bathing water by the time you wake up.
Also, the floor of your bathroom and the seat of your toilet are also warmed up prior for your ablutions.
Who would like waking up early if one has all of these set to make one's morning more enjoyable?
45 Applications of IoT in Weka Health Solutions
The one word that we heard most in 2020 was 'Coronavirus' and the word we are hearing in 2021 is 'Vaccines'.
Vaccination programmes are underway all over the world to fight this deadly disease and to ensure proper vaccination, the vaccines need to be stored at the correct temperatures.
To overcome this problem of storage, the Weka Health solutions came with the idea of a smart fridge.
This fridge allows the remote management of the vaccines and ensures that they are stored at the right temperatures always.
Also, to avoid unnecessarily opening of the fridge, it also ensures that the vaccines are dispensed one at a time with the use of an especially designed drawer set.
46 Applications of IoT in Gastromatix
If you have attended any large event, then you must be aware that there is always a lot of confusion at the bar, specifically if the cocktails are involved at the party.
Gastromatix has developed a system with the help of the Internet of Things tech. Using this device, one can make a cocktail on their own with utmost precision and that too in a matter of seconds.
Wastage of the ingredients is also avoided as this device also provides you with the exact amount of the products to be used in the cocktail.
You also need not worry about the billing system as it can accurately make the bills of all the cocktail drinks accurately, thus making the entire process streamline for a much better consumer experience.
47 Applications of IoT in IVD
Internet of Things technology is being extensively used in the in Vitro Diagnostics.
All of us know that this is an important part of the health care sector and delivery.
By integrating into this technology, the doctors are better placed for detecting diseases, determining the underlying causes, monitoring the health of the patients, and improving the overall outcomes.
Due to this technology's use, its demand is rising and it will surely make progress in making the processes more cost-effective.
48 Applications of IoT in Air Traffic Control
Substantial and a huge amount of risk + responsibility comes with the job of the air traffic control.
The old and traditional system of the radar systems does not work in this age where technology is advancing at a very high speed.
For enhancing this process, the company Nav Canada has now switched to the technology of satellites for broadening its reach.
With the help of this technology, the airplanes can now be tracked easily and quickly, and it really doesn't matter where they are flying.
By the last phrase I meant that, airplanes can now even be tracked over hard to access areas such as deserts and above oceans as well.
49 Applications of IoT in Texa
Do you know that previously data that was collected by the computers in cars was only restricted to the enthusiasts and mechanics?
They can also only access it with the use of a diagnostic device. However, now what the company Texa has done is that they are tapping into the Internet of Things tech for providing its customers and fleet managers with detailed in-depth data and statistics about the metrics related to a vehicle.
All of this includes notifying the paramedics immediately, driving skills of the individuals, engine health, and the consumption of fuel and contacting the police in case if any unfortunate event occurs.
50 Applications of IoT in Office Space
Optimized workplace is the major problem that many of the offices are facing worldwide.
The employee management is low and the office space is not fully utilized.
A product that addresses this problem and helps the companies to fully optimize their workplace by getting the most of their office space is Steelcase.
With the help of the Internet of Things technology, the employee scan get to know that which areas of the offices are available and free to use with the help of diagnostics.
Steelcase also helps in providing additional expertise on how can the area that is free and available, can be used in the most optimized way, thereby increasing the overall efficiency of the workplace.
51 Applications of IoT in eradicating pollution
All of us that the river Ganges holds a very important religious place in our ancient history.
Sadly, we all are also aware of the pollution, this river has faced in several years.
Here's a stat for all of you who love reading stats- River Ganges is the longest river in India and is a major source of water for eleven states in our beloved country India.
General contamination and agricultural runoff are also the major causes of pollution of the river Ganges.
The Government of India has employed and integrated the Internet of Things technology for cleaning up the sacred River Ganges in the long run.
Okay, here's another stat guys- Thirty six monitoring stations have been already set up by the Government of India for monitoring and collecting live updates about the live condition of the river Ganges water.
This information will be then used for deploying the appropriate governmental and environmental policies for combating the problem of the pollution for the Ganges.
Conclusion
So, considering the above applications,what does the future have in store for the IoT (Internet of Things)?
Connected devices across all manner of technologies will hit 20.6 million and it could hit one trillion by the end of the year 2025 according to a Gartner Report. That's only a staggering figure, according to HP.
The next 10 years will see Internet of Things systems and devices creating $14.4 trillion worth of value across various industries like the ones mentioned above, according to a Cisco report.
For creating and developing the life-changing conditions in our lives, the IoT (Internet of Things) is poised, both in a personal and professional capacity.
Most of the innovations that are mentioned above are already in place to an extent or another.
The Internet of Things (IoT)offers an unprecedented degree of efficiency and control that no company or industry can ignore.
What does that mean for all of us – TheInternet of Things, and its association with technologies such as Big Data, Blockchain, and ITIL, is a lucrative field with plenty of potential for careers.
You should check into offerings of several websites in the technologies as mentioned above for getting started in becoming proficient in the workings of the IoT (Internet of Things), and be prepared for the future time.
Read More: